WORK SMART, PLAY HARD AND HAVE AN ADVENTURE
WORK SMART, PLAY HARD AND HAVE AN ADVENTURE
Posted by Nikhil
On November 20, 2014
Comments
The weekend of November 15 and 16, 2014 was loaded with excitement for all iOGGERS. Actually all but six who could not make it for different reasons. So for the brave 13 who were ready to go, assembly time was at 10.30 am at the office where a comfortable tempo waited to take them on their maiden trip to the Adventure Zone near Madurantakkam, a two hour ride from our office.
Excitement was already in the air and building up as the iOGGERs reached Adventure Zone around 2.00p.m. We were greeted by Major Roy and his team. We dumped our bags and stuff in the tents with bunk beds and reached the Dining area where hot and sumptuous lunch was served.
The first activity lined up for the afternoon on Day 1 was Target Shooting. We made two teams – The Bachelors and The Married Men. Each team member had to hit targets with pistols and rifles. We were given a demonstration and away we went. Words of advice being shouted out by team members as the guys shot at the targets. The scores were tallied at the end and The Married Men were declared the winners so round one to TMM.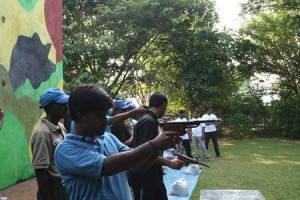 By now the lunch was digested and off to the second event – The Obstacle Course. Needless to say The Bachelors took the course by storm and whupped TMM sound and proper. Level after two events and the evening was setting in so it was time for a quick shower and Dinner time. All good things associated with a good Dinner were present. The spirits were high, the music was loud and the evening became night and for a few a little late!!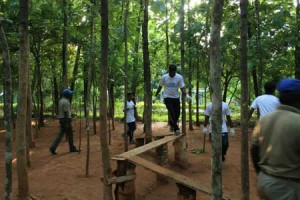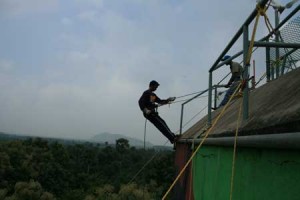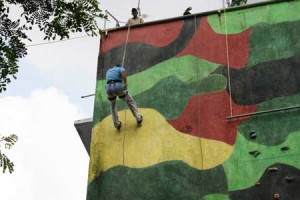 Day 2 and at the breakfast table there was eager anticipation as another couple of events were scheduled before lunch. After a quick breakfast, once again the two teams were briefed on the two events Rappelling and Rock Climbing.
The basic technic was explained and demonstrated by the Adventure Zone staff and the event started. It was the first time at both the events for each and every iOGGER and they came out in flying colors.
A short break with cool buttermilk and hot vadas and the event continued with the rappellers climbing and the climbers rappelling. The gruelling event finally ended and it was The Married Men who inched out ahead of The Bachelors.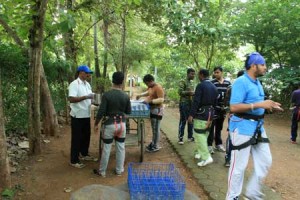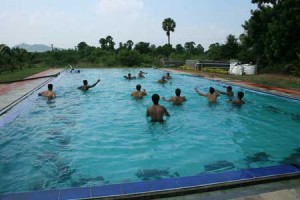 To counter the exhaustion and ease the tired muscles a dip in the huge swimming pool followed. Cool and crystal clear water was an invitation which one could not refuse and the teams let their hair down and had lots of fun in the pool.
Relaxed, showered and hungry we all assembled for lunch and with that we said our good byes to the Adventure Zone thinking about how soon we could come back and participate in the remaining events and activities offered.